But, we also live in times where everything is possible and Fotorus Photo Collage Editor for PC is the right way to do it. FotoRus Editor - PC Edition is not ordinary editor. It offfers you variety of possibilities for digital manipulation of pictures.
Most interesting option on Android version of app is editing and blemishing of dark spots, lines, places and whiteining of either theet or some piece of your picture, because everyone wants to be perfect on forever captured pieces of time. But, FotoRus Editor - PC Edition gives you and option to choose and change lightning, filter, colour and even background of your timeless piece of history! Most important advantage is that it uses PIP Camera - number one self-shot camera all around the world.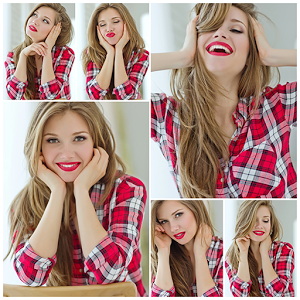 This software took care for their users and made sure that you have rich choice on every change you want to make. Using all kinds, colours and fonts of text is also fabolous way to give your personal touch and make you photos unique. It also gives you opportunity to use stickers and tags just by choosing, clicking and placing any of them anywhere on photo. After editing, you are welcome to put your masterpieces together by using Photo Collage Editor in any way you want.
It offers you a variety of collage samples and positions - whether it is panoramic, vertical or horizontal. If you want to share pictures after editing and arranging is done, click offered social network icon and connect FotoRus with your account in order to give your friends a look in what FotoRus Editor can do! If you do not want to make it public, no worries! Just save it in Secret Album where is your file safe and undetectable.