Are you looking for a simple, easy-to-use and effective application for your pictures and photos? Well, look no further, because Instacollage online just might be the perfect one for you. The main purpose of this app is to provide you with the means of creating beautiful picture collages and eye-catching photo frames.
This application also comes very handy if you wish to make various combinations with photos of various sizes, which you can then turn into a dazzling collage or a single framed picture. This entire process is quite simple and quick, and you can do it with just a couple of clicks.
Share with the world
One of the biggest advantages of Instacollage free online application is that you can share your creations with the whole world. This app enables you to share them via a plethora of social media sites like Twitter, MySpace, Facebook, Viber, Messenger, Flickr, WhatsApp, KakaoTalk and any other that you might have on your PC or mobile device.
With more than 50 million users of this application around the world, you can be sure you will become a member of a vast and creative community.
Key Features Instacollage Online
Instacollage app comes with a bevy of features, all convenient and free. One of the most important ones is the option of using stickers. The stickers that this app offers can be quite useful, in case you want to add a certain flavor to your pictures, make them more fun, or just simply improve them.
Another feature of this app enables you to add text to your pictures, which you can easily modify by changing the type, color and size of the font, and by adding certain effects for additional flavor.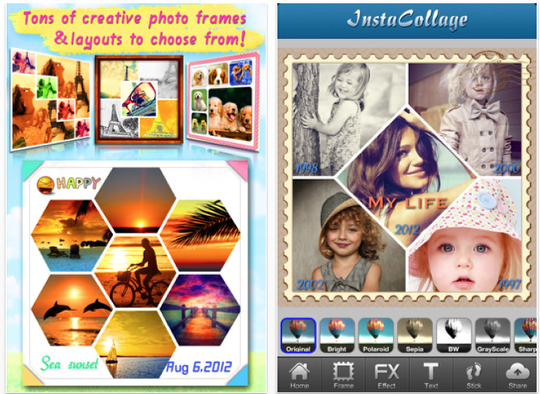 Other important features of this app involve the options of easily adjusting, re-sizing, rotating and moving any picture you have in your storage. There is also an option that allows you to re-position your pictures by dragging them between different grids, making them just the way you want them.